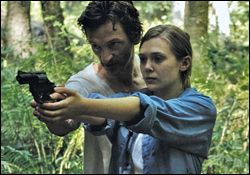 There is a well acted indie film out there called MARTHA MARCY MAY MARLENE. The lead girl is an Olsen twin little sister and she does a great job as a damaged girl escaping from a cult in upstate New York. She also has a great rack. John Hawkes plays the cult leader and does an award worthy job. The movie itself doesn't add up to a lot but the two performances are exceptional.
A few reviews compared the cult leader to Jim Jones. Having now seen the film, the Col sighs and realizes that TLB is now less than a footnote to the public. Why?
- Hawkes seduces each girl and then sleeps with her, making it seem like a religious rite
- Each girl then helps the next girl get ready to be screwed.
- There is a cute young boy there to recruit girls for the cult.
- Hawkes hands a gun to one accolyte and says "Go ahead and kill me."
- The cult creepy crawls houses. Like for real.
- There is a great sequence as they jump off rocks into a swimming area that is filmed like in Hendrickson.
- While creepy crawling someone is killed.
- Hawkes using charisma to control Olsen and make her get over the killing. "For me."
- Hawkes has a long discussion with Olsen about "fear" and how it is a pure emotion and makes one aware. Fear brings you to NOW.
Anyway.... the film is clearly modeled on the Family, not Jonestown. I wonder why I think I am the first to point this out?
Check it out and let me know your thoughts.