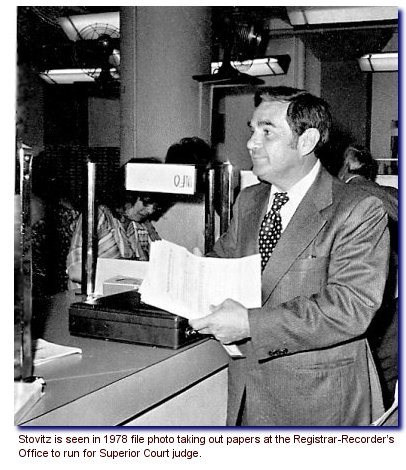 Tuesday, September 2, 2008
Page 7
PERSPECTIVES (Column)
Younger Ousts Stovitz as Manson Prosecutor After Comment to Reporter
By ROGER M. GRACE
Seventieth in a Series
Evelle J. Younger made innumerable personnel decisions during his tenure as district attorney, but one, just one, spawned controversy...and the call he made is still the subject of Monday morning quarter-backing.
As Ninth U.S. Circuit Court of Appeals Judge Stephen Trott, then a deputy in the office, recalls it:
"Evelle had high standards, which explains why he removed Aaron Stovitz from the Manson case for talking too much to the media about the People's case after Aaron had been told not to try his case in the media."
Stovitz, who was head of the trials division of the office downtown, had been chosen to prosecute Charles Manson and his cult followers for the brutal murders of actress Sharon Tate and three house guests and a groundskeeper, and for the unrelated slayings of Leno and Rosemary LaBianca. Public interest in the case was intense, and Los Angeles Superior Court Judge Charles H. Older imposed a gag order.
Nonetheless, Stovitz granted an interview to the Rolling Stone magazine in March of 1970. Stovitz's justification was that he had talked off-the-record. In contravention of that proviso, the magazine published the remarks in its June issue, attributing them to Stovitz. The defendants moved for a mistrial based on the interview, and the motion was denied.
(The Court of Appeal, in the 1976 opinion that upheld the conviction of Manson and two of the accomplices, found that Stovitz, though sincere in his belief that he was merely engaging in a private conversation that was supposed to be confidential, did breach the gag order…but held that it was harmless inasmuch as what he provided was "only a droplet in the sea of publicity.")

Vincent Bugliosi, who was brought in as second banana to Stovitz, recounts in his 1974 book, "Helter Skelter":
"After the Rolling Stone interview, Younger had told Aaron: 'No more interviews.' Being somewhat easygoing by nature, Aaron had trouble complying with the edict. Once, when Younger was in San Francisco, he'd turned on the radio to hear Aaron commenting on some aspect of the day's courtroom proceedings. Though Aaron's comments were not in violation of the gag order, on his return to L.A. Younger warned Aaron: 'One more interview and you're off the case.' "
A one-line comment to a reporter in the hallway outside the courtroom—characterized by Bugliosi in his book as "a passing remark" hardly amounting to an utterance in the course of an "interview"—led to Stovitz's ouster from the case on Sept. 4, 1970.
The Associated Press account of that action says:
The veteran prosecutor who mapped the
state's case against four defendants in the Sharon Tate murder trial has been pulled off the case, reportedly because of his statements to the news media.
The district attorney suddenly removed Chief Prosecutor Aaron H. Stovitz in midtrial Friday saying he was needed for administrative duties.
Sources said Dist. Atty. Evelle Younger had been upset about out-of-court statements by the two prosecutors.
Stovitz, 45, chief of the district attorney's trials division, had been on the case, assisted by Vincent Bugliosi, since the actress and six others were found slain in August 1969.
Charles M. Manson 35, leader of a hippie-style clan, and three women followers have been on trial since July, charged with murder-conspiracy.
Stovitz often traded jokes with reporters in corridors outside court.
Early this week he was quoted by some newsmen as saying that testimony by defendant Susan Atkins about her health was "a performance worthy of a Sarah Bernhardt." Miss Atkins told the judge she had stomach pains and was too ill to continue. A doctor said she was in good health.
Stovitz said later this comment, made in the corridor, was off the record.
A source in the district attorney's office said Younger has received criticism from the legal profession about comments by prosecutors. The judge has issued an order barring principals in the trial from discussing it publicly.
….
Younger said Stovitz has "a very important position on our executive staff. He's been away from this responsibility too long….We think the change will be beneficial all around….I will have no further comment."

Stovitz, at the time, did not talk with the press about his expulsion. The Herald-Examiner's issue of Sept. 5, 1970, says:
"The 46-year-old Stovitz obviously was emotionally upset by his removal from the case and left his office two hours early.
"He declined to comment on the reasons for his being taken out of the trial, saying only:
" 'I'm sorry but there is nothing I can tell you.'"
He did, however, discuss it six years later with Laurinda Keys, then a staff writer for the Pasadena Star News. (I knew Laurinda before she forayed to the Star News; she was a reporter for the Daily Journal, where this column appeared from 1972-77. She went on to become, for a good number of years, a globe-trotting reporter for the Associated Press.)
Her June 13, 1976 Star News article relates:
"Stovitz said that about three weeks before he was removed from the case he and Bugliosi had a conference with Younger.
" 'Younger told us that he wanted no more press statements and that if we violated that order we were going to be taken off the case. We religiously abided by that during the trial.'
"But one day, defendant Susan Atkins requested a delay in the trial because she had a stomachache. A doctor examined her and said her only problem was that she was constipated and refused to take a laxative, Stovitz said.
"A hearing in which Miss Atkins cried and begged for a continuance was out of the presence of the jury but most of the press were present. After the judge refused to grant the delay, Stovitz said he walked out of the courtroom and a UPI reporter who had missed the hearing asked him what had happened.
" 'Oh, she gave a performance worthy of a Sarah Bernhardt,' was Slovitz's offhand reply. The reply went out on the UPI wires."
Hmmm. Strange that the 1970 AP story doesn't mention that Stovitz's courtroom corridor remark had been to a reporter for UPI…AP's then-viable competitor. Strange also that Bugliosi's account doesn't reflect Younger's apparent displeasure with him, as well as Stovitz, for talking with the press.

Stovitz, 84, now terms his hallway remark "innocuous." He tells me he's "really not bitter" about his removal from the case, but adds that "it was a disappointment."

Had he remained, he reflects, he, not Bugliosi, would have written books and gained fame.
"At first I felt resentful," Stovitz says, but adds that he was later able to convince himself, "Look, I've still got my job, my family," and, in the long run, it didn't matter.
It remains that his career may well have suffered as a result of his reassignment. Stovitz ran unsuccessfully for the Los Angeles Superior Court in 1976 and 1978. In recent years, he served as an as-needed commissioner. On the other hand, if he had led the successful prosecution of Manson et al., this would have been no assurance of advancement. Bugliosi ran for district attorney in 1972 and lost.
Stovitz continues to express a view he's shared with reporters in the past as to the reason Younger cracked down on him and Bugliosi. Younger was a candidate for attorney general in need of coverage, and wasn't deriving much press attention from his weekly news summaries of the Manson case. Reporters swarmed about the deputies.
Younger's son, retired Los Angeles Superior Court Judge Eric Younger, says his late father "liked Aaron." But, he points out, the district attorney gave Stovitz an instruction to refrain from talking with the press and "Aaron didn't do it." Eric Younger, now a private judge, says this was perceived as "direct insubordination, a challenge kind of thing."

Veteran criminal defense lawyer Joe Ingber reflects that "Evelle Younger was a man who ran the office like a military organization." Was Younger—a brigadier general in the Air Force Reserve—so consumed by a quest to maintain military-like office discipline that he may have jeopardized the outcome in the Manson case by yanking Stovitz off it?
Expressing the view that removing Stovitz was "unwise" and a "tactical error" is Robert H. Philibosian, the county's 38th district attorney, serving from 1982-84. But Younger's action, he opines, did not put the outcome at risk, explaining: "The case was a very strong case."
This was one of the most watched prosecutions the office had ever handled, on a par with the earlier cases involving the McNamara Brothers (L.A. Times dynamiters) and Aimee Semple McPherson (radio evangelist charged with faking her kidnapping). Yet, Younger, after ejecting Stovitz from the case, entrusted the lead role not to a seasoned prosecutor but to Bugliosi, a lawyer short on experience and long, quite long, on ego. Stovitz was licensed to practice in 1950; Bugliosi in 1964, less than six years before becoming chief Manson prosecutor.
Former Los Angeles County Public Defender Wilbur Littlefield terms Bugliosi as having been, up to that point, "just the guy carrying the files." In like vein, Philibosian says that Bugliosi "was the brief-case carrier for Stovitz"…but explains Younger's decision to put him in charge by noting that outside of Stovitz, he was "the only guy who knew anything about the case."
Now assisting Bugliosi were Deputy District Attorneys Donald Musich, a lawyer since 1963, and Steven Kay, sworn in as a lawyer only four years before. This was not a prosecutorial "dream team."
The Sept. 4 AP account quotes Paul Fitzgerald, attorney for co-defendant Patricia Krenwinkel, as rejoicing at the dismissal of Stovitz from the case, exclaiming: "What a break."
Could there have been a defense verdict, given the evidence? Our retired general manager, John Babigian, once aptly described litigation as a "crap shoot." Whatever slight chance there was of acquittals in the Manson case was no doubt enhanced by virtue of Stovitz—seasoned, likeable, trusted by juries—being removed. Whether that chance was of such significance as to have rendered it unwise for Younger to overlook what he saw as a last-straw instance of direct disobedience remains a matter on which views will differ.



DEPUTY DRAWS SUSPENSION—Another personnel decision by Younger which drew press attention, but did not generate controversy, was the 10-day suspension, without pay, imposed on Deputy District Attorney Harold Prukop. The lawyer had been the Democratic candidate in a run-off with Republican incumbent Floyd Wakefield in an Assembly race. Wakefield's campaign made use of a routine letter Younger had sent commending him for his votes on law enforcement matters. Prukop requested a letter from Younger clarifying that he wasn't endorsing the legislator from South Gate. Younger complied, saying in the letter that he was making no endorsement in the race—but adding that he did commend Wakefield's voting record on issues relating to law enforcement. That last part was left out when the Prukop campaign reproduced the letter in campaign literature. (Prukop lost the race.)
In a missive to the deputy advising him of the suspension, Younger said that in disseminating an altered letter, he created "the clear impression that I was denouncing Mr. Wakefield and indirectly supporting you, which was not true."
Prukop was disciplined under a portion of an office manual which said that an employee involved in politics "should be keenly aware of the responsibility not to bring embarrassment to the department of the district attorney."
That does seem like a rather vague standard. It's no longer in effect.